Unigine Heaven 3.0 is out for MacOS X. We finally have a good 3D benchmark software on Mac!
You can download Unigine Heaven from this page: https://unigine.com/products/heaven/download/. Downloads are available for Windows, Linux and now OSX!
Today I benchmarked my NVIDIA ENGTX480 and AMD HD6870 graphics cards. These two powerful graphics cards (PassMark High End Video Card Chart) are plugged to my HackinTosh build and connected to two different Full HD 1080p screens. Let's see how each card deals with Unigine Heaven 3.0 at Maximum Settings!
Edit: The first results uploaded to this article were wrong. Have a look at the "Bad Results" section to know more why.
Unigine Heaven for OSX
First of all, under MacOS X there is no DirectX. So, Unigine Heaven 3.0 uses the OpenGL API, which is one of the best way to 3D bench your GPU.
[![Uningine Heaven 3.0 Ba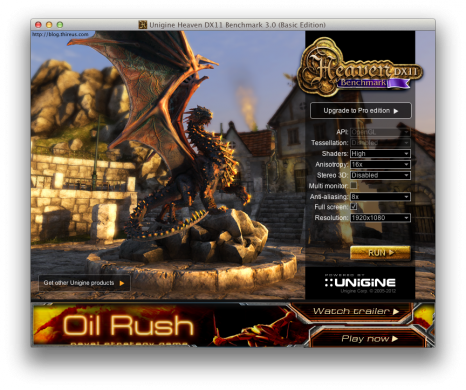 om/img/uningine-heaven-3-0-basic-edition-macos-x.png)
This is how the main menu looks like… I pushed all settings to the maximum (except Stereo 3D because I don't have 3D glasses).
https://www.youtube.com/watch?v=iwlY_1-hmCA
We clearly see that two OSX applications can be executed at the same time and have their own dedicated GPU and screen.
About the HackinTosh build…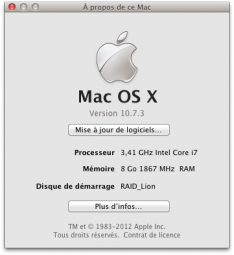 Let's see what we have here…
CPU: Intel – Processeur – Intel Core i7 2600K / 3,4 GHz – LGA1155 Socket – L3 8 Mo
RAM: G.Skill Kit Extreme3 2 x 4 Go PC15000 Sniper CAS 9
MotherBoard: ASUS SABERTOOTH P67 (rev. B3) – Socket 1155 – Chipset P67 – ATX
GPU: SAPPHIRE ATI Radeon HD6870 Toxic | 1024 Mo DDR5 – PCI Express – DUAL DVI / HDMI / mini DP
GPU: ASUS ENGTX480/2DI/1536MD5 GeForce GTX 480 (Fermi) 1536MB 384-bit GDDR5 PCI Express 2.0 x16 HDCP Ready SLI Support Video Card
Power Supply: OCZ Z Series Gold OCZZ1000M 1000W
CPU Cooler: COOLER MASTER HYPER 212 PLUS
Case: Lian Li PC-K63
Nothing extreme, just a common HackinTosh build with two graphics cards in it.
[![Graphics/Display OSX 1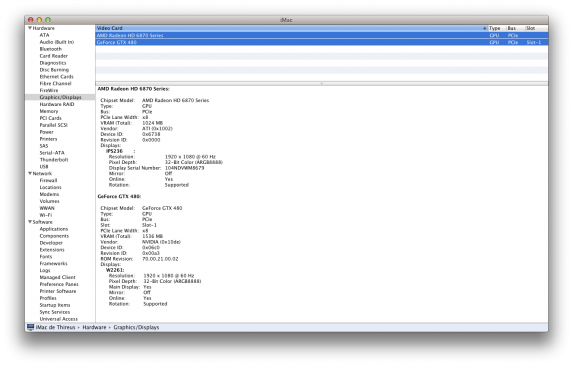 om/img/graphicsdisplay-2xgpu.png)
Benchmark Results!
I have benchmarked both NVIDIA ENGTX480 and AMD HD6870 graphics cards with Unigine Heaven 3.0.. The results are very good for the NVIDIA card, but poor for the AMD card with maximum settings.
Default Settings :
[![NVIDIA ENGTX480 Unigin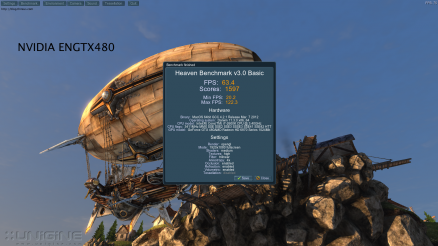 om/img/nvidia-engtx480-unigine-heaven-3-0-63-4-fps-default-settings.png) [![AMD HD6870 Unigine Hea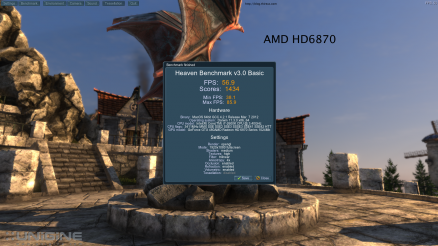 om/img/amd-hd6870-unigine-heaven-3-0-56-9-fps-default-settings.png)
Maximum Settings :
[![NVIDIA ENGTX480 Unigin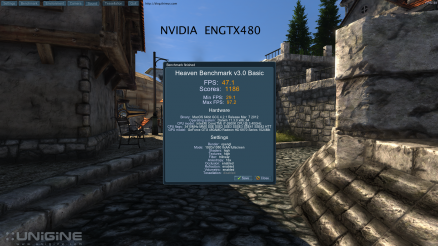 om/img/nvidia-engtx480-unigine-heaven-3-0-47-1-fps.png) [![AMD HD6870 Unigine Hea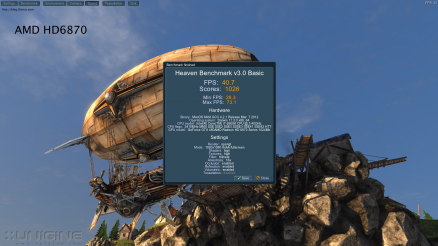 om/img/amd-hd6870-unigine-heaven-3-0-40-7-fps.png)
Bad Results?
The first time I benchmarked my AMD HD6870, results were very bad… My uptime was about 24 hours. So, I restarted the hackintosh with a fresh boot, and everything went fine after that for the AMD card. NVIDIA ENGTX480 results were good.
I have noticed that my AMD HD6870 graphics card performance degrades over time. This is a known issue (other AMD GPU owners have the same issue within the HackinTosh community).
If you face the same issue, I advise you to reboot first, it is always better to benchmark after a fresh boot. Then check if you have the latest Kernel version and the latest Kexts for your video card (www.osx86.net is a good place to find these stuff).
Conclusion
Both graphics cards are very good and run well under MacOS X 10.7.3. The NVIDIA card is very tricky to install under MacOS X Lion (and a lot more under Snow Leopard 10.6), but once you get all things done it's just a real pleasure working with it. The AMD HD6870 works out of the box under MacOS X Lion, everything is fluid, no freezes, no KP at all, but the results are here, this card is less powerful.
I'm planing to write another article regarding CUDA, PhysX, OpenCL, OpenGL benches, and the advantages to have two powerful graphics cards (AMD + NVIDIA) into your HackinTosh. I keep you in touch on twitter.
One last thing, those who own a GTX480 and are frustrated with lags but can't wait for my next article… here's a little gift for you (only works if your HackinTosh model is iMac12,2).
My AGPM.kext GTX480 iMac12,2 10.7.3:
Related terms: