Today I've released a firewall package on Thireus Cydia Repository: Untrusted Hosts Blocker
Do you know that iOS applications can track you and steal confidential data on your smartphone? This data can be quietly transmitted to online services. Act now and say STOP to ads, spies, tracking and untrusted hosts on your JailBroken iPhone/iPad/iPod Touch and have a quick look here.
Update: Version 1.5.1 update is out! Hosts are now redirected to 0.0.0.0 which is more efficient than 127.0.0.1. (Thanks to zeflash for the report)
Update: Version 1.6 update is out! winhelp2002 list updated + hosts from user requests + special list from Nervous94 (blocking various Cydia ads).
Update: This article won't be update for future releases. You can directly view the package description on Cydia which directly highlights the new features and changes.
Description
Block more than 16,000 blacklisted hosts! This is not just a classic adblocker but a powerful firewall for confidentiality and security purpose. This package will add all blacklisted hosts to your /etc/hosts file. If you are unhappy with this tweak, you can uninstall this package and all installed entries will be automatically removed.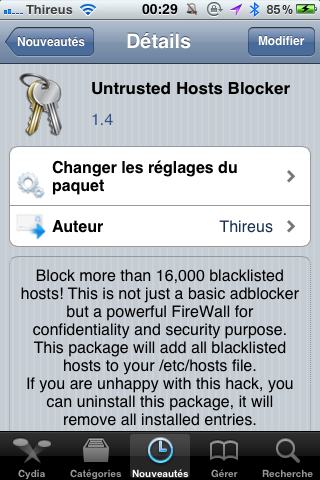 If you want to add more hosts or delete some, feel free to contact me using the contact button on the package's description page on Cydia.
How do I install this package?
Add Thireus Repository https://repo.thireus.com/ to Cydia and install the package called "Untrusted Hosts Blocker".
Is it safe?
Hosts entries have been validated by myself. Most of these hosts are from the work of winhelp2002 and 0th3lo, some blacklisted hosts are from me. The provided hosts modifications are used by myself for years on both my iPhone 3GS and MacOS X. Most of the blacklisted hosts have been manually tracked and classified as untrusted or dangerous.
All entries redirect the traffic to 127.0.0.1 0.0.0.0.
I took the time to monitor common iOS apps (about 30) to check if more hosts must be added and if the current firewall rules don't affect the functioning of common iOS applications. Then, I packaged everything for you.
You are free to uninstall this package. Uninstallation can take up to 3 minutes but removes all added entries to restore your original hosts file.
Why should I install it?
This firewall is designed to block all hosts classified as untrusted or dangerous.
Some information an iOS application can steal:
Mobile phone number
App ID
UDID
iPhone model
Firmware
Text Messages
Incoming & Outgoing Call Logs
Pictures
GPS Location (Tracking)
Contacts
These information can be transmitted online (during the use of the application), for advertising purpose or to track and profile you.
The aim of 'Untrusted Hosts Blocker' is to block most of the hosts that request these information and provide an adblocker for your iOS devie.
For your security and confidentiality I recommend you to install this package.
Related terms: